USA educational architects on amsterdam tour
USA educational architects on amsterdam tour april 2018
Architectuur Tours Amsterdam had the privilige to organise a school tour on 22 and 23 april for 24 educational US-architects. The 4 day trip to Europe was initiated by NanaWall, producer of opening glass walls.
Me was asked to organize tours in the Amsterdam library, OBA, and in several sharp designed Amsterdam schools, when possible with presentations.
After their check in at Lloyd Hotel, I accompanied the group to the OBA. Here Thomas Offermans, director of the Jo Coenen office, did a presentation and a tour about the actual changes on the building: the entrances to the cafe, the exhibition space and theatre.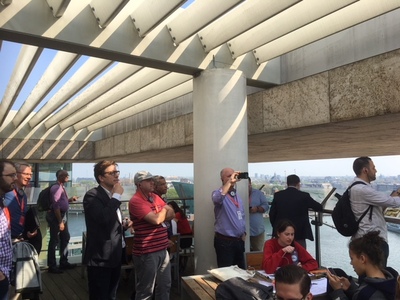 Thomas Offermans and the US architects at the roof terrace of the
OBA
.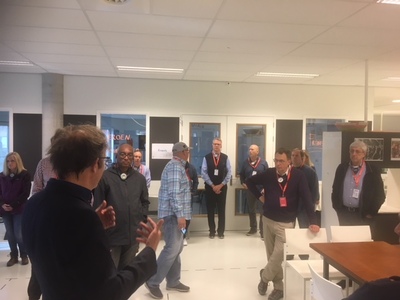 Eric Schotte explaining about the principle of the 'learning squares'.
After the library we did the conservatory which is next door and a good and educational building.
Than we went for a 1,5 hrs 'Manhattan at the IJ experience': a boat ride about the latest architecture at the IJ-banks mixed with the historic of the Western islands and a bit of the ring of canals. We finished the day with a small walk through the old centre in direction to our dinner place.
Monday morning at 8 AM our busdriver brought us to the Montessorischool Steigereiland. Four little scholars guided us through the primary school. Next stop was IJburgcollege, where architect Eric Schotte did a presentation and a tour. The Americans were very much interested in the realisation of the diverse functions in one school building: the school, appartments and public gym above the school and parking beneath. Also the 'learning squares', communal learning spaces, had their special interest.
At the Nicolaas Lyceum in Amsterdam south architecte Richelle the Jong showed us her very tranparent, charmly curved school buiding. The great openess impressed, because it's impossible in the US with all the school shootings. The Nicolaas even has a meditation room!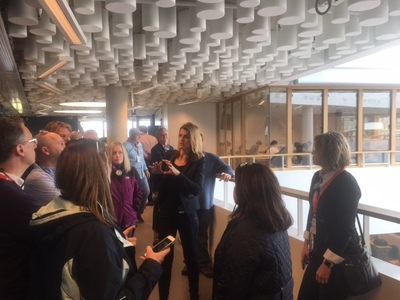 Richelle de Jong explaining.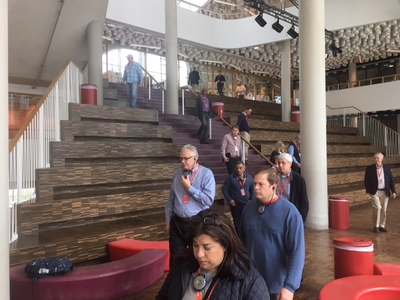 Multifunctional steps in the aula: a very often followed invention from Herzberger?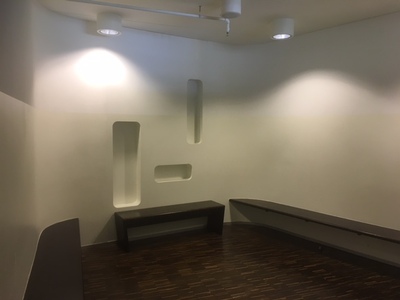 The meditation room.
With two speed tours, in the 4th Gymnasium and in Bredeschool Houthaven, we finished the Amsterdam part of the trip. The bus departed to Arnhem for the last school, the Herzberger Omnibus school. It has Solarlux elements in it. Solarlux is a partner producer of NanaWall. At 6.30 PM the end destination of the day, Osnabruck, was reached. On schedule!